And a little blood and dust.
Over the weekend, I attended RavenCon 15, which was my first time at the event. I had purchased a table in the dealer room, and thought it would be a good place to sling horror anthologies. Arriving on Friday, I walked into the room and realized three things:
I was set up across from Falstaff Books.
I was going to be staring at John Hartness's mug all Con.
There was absolutely no way in hell my wallet was going to make it all the way through the weekend without dropping a few–quite a few–bucks on books.
The book slinging went well, I got to hop on a panel about indie publishing (thanks, John!), and yes, I did indeed pick up some books. The first was Two-Gun Witch, by this fellow, Bishop O'Connell, whose book, The Forgotten, I had picked up and read before I eventually met him during the DragonCon writing mentorship sessions. The other was In Blood and Duty Bound, by Erin S. Bales, which features the cover that Lynne Hansen posted in her newsletter and that I coveted for my own until John purchased it first. Sigh.
Anyway, I spent most of my time at my booth either selling books or weaving bands to turn into Beltane bracelets or bookmarks and bracelets for the Farmers' Market. However, when I wasn't doing that (there were a few slow times in the dealer hall), I tore through O'Connell's book like a bat out of hell … who was reading … instead of flying … okay, you get what I'm talking about. I finished that book up, and then started in on The Stolen, because I didn't realize that book was a whole series. I ripped through that and then, on Tuesday had to send him a message asking where the next book is… ANYWAY, that is the blessing and curse of being a voracious reader.
One other quick note … I have posted in previous blogs about books I've picked up from Falstaff, and how much I've enjoyed them. Spending a Con across the aisle, gazing at their covers, talking with John and his authors, was such a great experience. I am very lucky that Falstaff and John decided to take on the Rick Keller Project, and I know that my books, and honestly, my development as an author, are in good hands.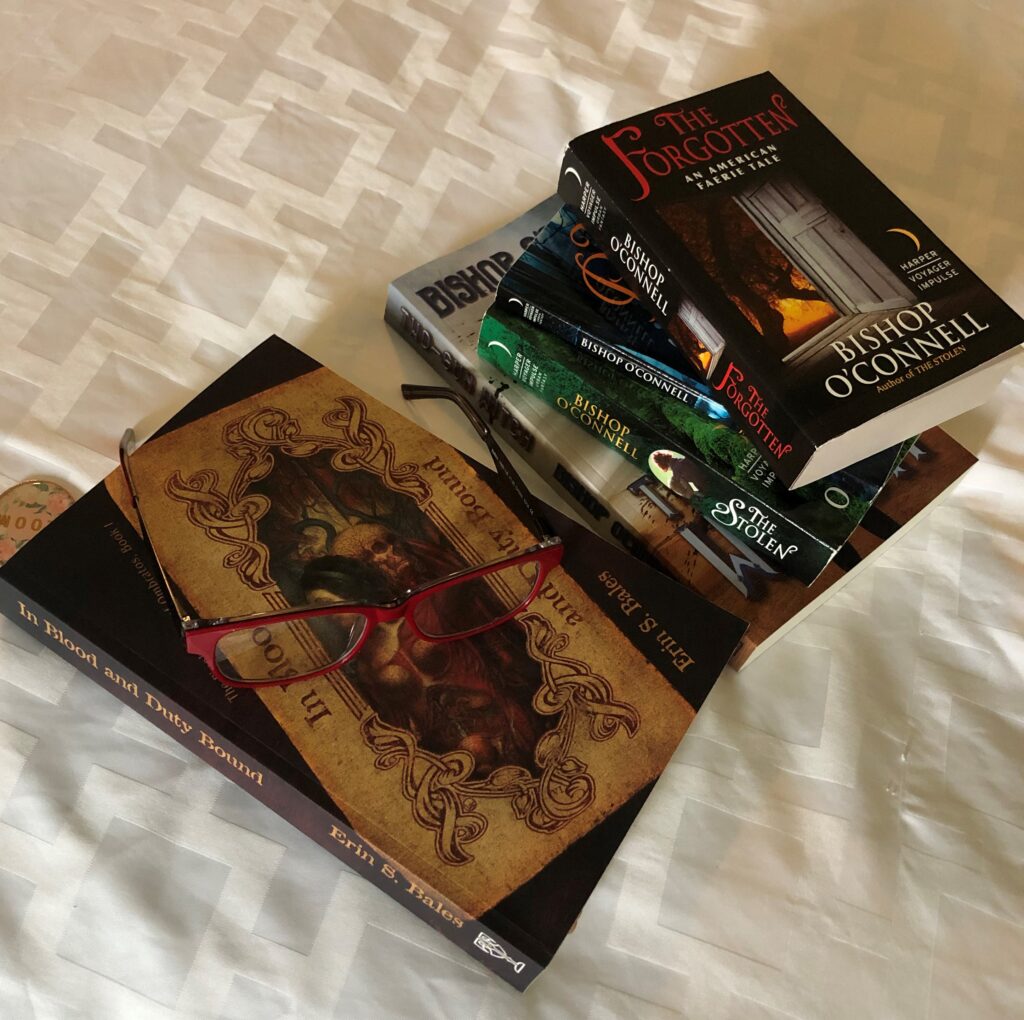 So, here are some thoughts on the books that I read this week:
An American Faerie Tale Series by Bishop O'Connell
This series includes: The Stolen, The Forgotten, Three Promises, and The Returned. Each of the books has its own arc, which is satisfactorily resolved at the end of each book, although each of the books links to the next. Three Promises is a collection of short stories that explores various aspects of the characters and gives a little bit of closure to one loose thread. The premise of the series is that some of the Fae, after years of abiding by "the Oaths" (basically, not to mess with humans), violate these oaths in a big way. In the first book, they steal a child, for example. Other Courts of the Fae, in particular the Rogue Court, join forces with the child's mother, a wizard (who hasn't really let anyone know he's one, and doesn't know much other than what he's picked up from his grandfather's library), and an Irish warrior/berserker to go get the child back. In the later books, we are introduced to further characters and organizations, such as "The Order," who is … well, those would count as spoilers. Things I love about this series: the rich characters who have well-drawn emotional arcs, a writer not afraid to make hard choices (and make his characters face hard choices), and a gripping plot that deftly weaves the reader from one place to another. Things I don't love — I want more books in the series!! Like now! Anyway, if you love urban fantasy and magic and Fae shenanigans, check it out.
Two-Gun Witch by Bishop O'Connell
Woof. That's all I'll say. This was one tightly-plotted, twisty, turny hell of a ride. Talen is an elf, a member of a race that has been shit on and oppressed since they lost the war to the humans. Along with the Native tribes of the West, they've been pushed into reservations. Any elf caught east of the Mississippi will, by treaty, be put to death. Talen works, essentially, as a bounty hunter, except she hunts those who are corrupted by dark magic. When she takes a bounty where the inconsistencies just keep adding up, she finds herself on the path to more than just another job. I'm not going to tell you more, I'm just going to tell you to go get this book and enjoy the heck out of it. I did.
In Blood and Duty Bound by Erin S. Bales
Full disclosure, I haven't finished reading this book, BUT I will as soon as I finish this blog post. Let me say this–as a kid, I grew up reading long, involved, well-plotted, intense, complex fantasy books. Eddings. McCaffrey. Jordan. Feist. McKiernan. THIS BOOK–well, I honestly have felt like I'm a teenager again, lost in the pages of a fantasy world, turning page after page, caught up in the intrigue, the emotion, the characters, the pull of what's coming next. This is an ensemble book, so I won't get too deep into what each character is doing, but suffice it to say, there are many threads interwoven as the events of the book proceed. Like many fantasy authors, Bales moves us from one character to another, showing different places and people who are all working toward their own goals. (Unlike some OTHER fantasy authors–yeah, I'm looking at you, George–I haven't found a single one to be uninteresting or boring enough to skip their section. Yes, as a reader, I confess, there are some books I couldn't tell you what happened to a certain character, because I flip ahead. But in this book? No way!) Anyway, anyone who is a fantasy fan should pick this book up (careful, it's satisfyingly solid in width) and read the heck out of it. Can't wait for the next one!
All in all, it's been a great reading week. I've just had a blast. Can't wait to see what next week brings!
* * *
Like what I'm putting out in the world? Want to fuel the next session? Buy me a coffee!