HOLY COW IT'S ALMOST THE END OF APRIL?!?
Hang on, I gotta go lay down…
So, what's going on with me? Thanks for asking! Where do I start?
First, March was fantastic! I went to Korea with the Army, which is something I've always wanted to do and finally after 21 years got the opportunity to hop on. The exercise we were supporting was challenging but rewarding, and I felt an unusual twinge in my chest that I identified as regret. I don't often get all teary about roads not taken, but when I was there, I just felt so comfortable and enjoyed the food and learning how to read Hangul and going to the DMZ that I did kind of wish that I'd gone there after the MP Officer Basic Course. (I had a slot at a unit in South Korea, but my spouse did not, so we asked our branch managers for help and both ended up at Fort Hood, TX, where he promptly deployed for a year to Iraq. So it goes.)
I got back from Korea with an ever-expanding to-do list, one which I still haven't gotten quite on top of. Then, in late March, I headed off to Scares That Care Presents AuthorCon 2, where I hung out with all my wonderful horror fiction people. Seriously, the vibe at this Con is welcoming AF. It really does feel like coming home. I spent a great deal of the Con behind a vendor table with my publishing partner Carol, but I also spent a great deal of time wandering around the dealer tables, going to panels, hitting up anyplace I could find coffee, and also speaking on two panels, the first about putting together an anthology and the second about writing about the military.
Then I came home and started prepping for RavenCon… Also a fun Con. I didn't do quite as well in sales as we did last year, but I had a couple of great panels, met some new people, and got my picture taken with a giant plushie squid, so all in all, it was fantastic.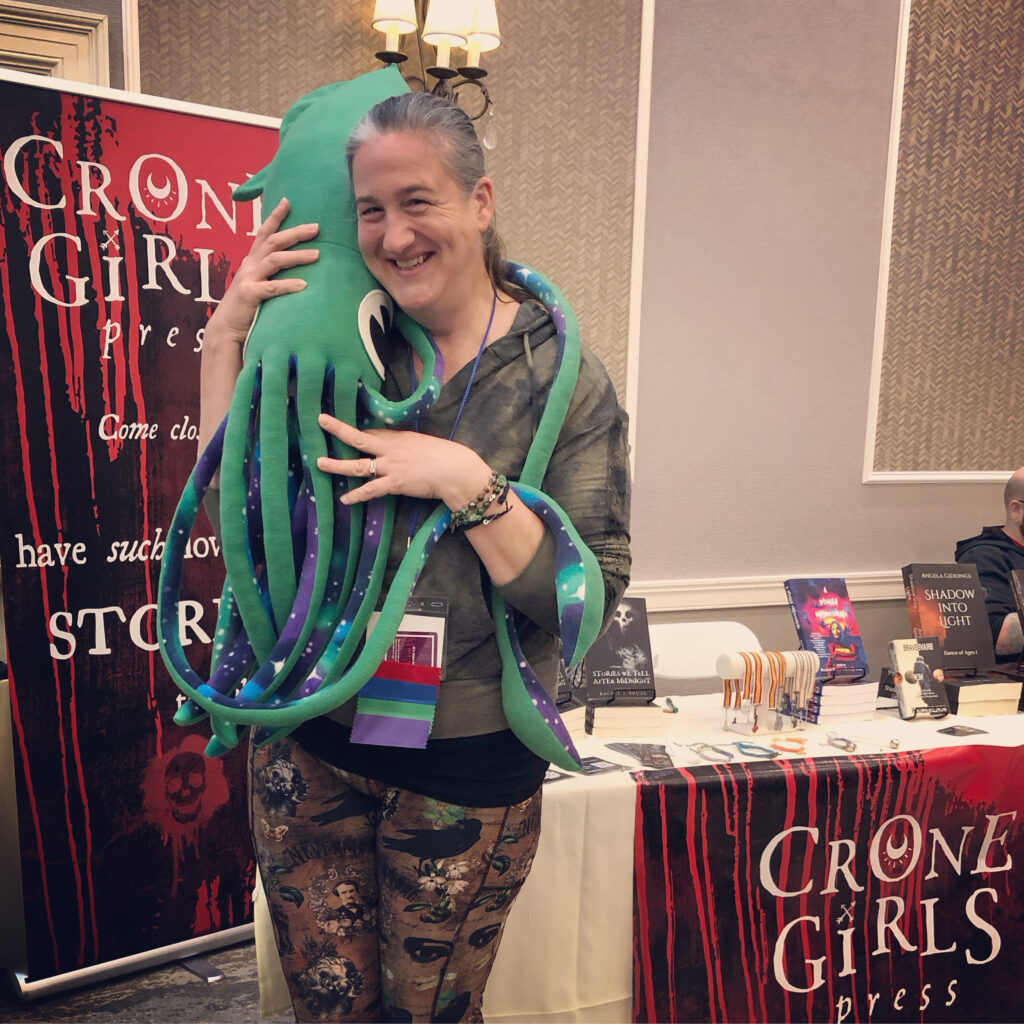 Somewhere in there, around the Easter time frame, I also spent time up in New Jersey with family, and a weekend at Fort Meade with the Army (again). I'm still playing catch up from all the things I didn't get done. That and the fact that I've suddenly developed a bunch of triggers for my migraines that I didn't have before (no idea what they are, but they've been coming way more frequently than before and even though I have great meds, they are still a disruption to the day…) So, off I go to do some coursework for the MBA I started last week (yes, I'm back in school, because I am a giant academic nerd who wants to learn how to business more), and then get some words on the page.
Peace!
~~~
Thanks for reading! I have recently started using affiliate links, so if you click on one of the books or items listed, and end up purchasing it, you will be helping support my blogging efforts. If you like what I'm putting out in the world, and would like to help support in other ways, you can buy a book, leave a review, listen to the podcast, or share content. You can also tip me on Ko-Fi, or drop me a buck or two on PayPal, which will help keep me in books and caffeine and colored pens. Enjoy!
Have you picked up a copy of Cold Run: Book 1 of the Rick Keller Project? Do you like fast-paced, gritty urban fantasy and werewolf secret agents? Well, then. Click the link!